BEST HOLIDAY WISHES, SADDAM!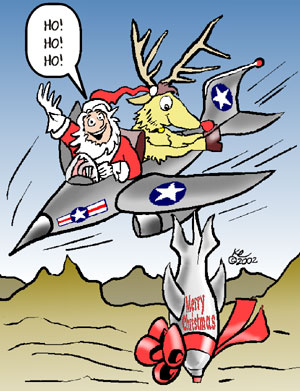 Last year, one of my clients asked me to find someone to design a "patriotic, secular Christmas card." Unsure how to resolve that triple-contradiction, I called on my old buddy Kurt Erichsen, whose loony cartoons are fondly recalled by ... oh, maybe, hundreds of readers of Kurt's old fanzines and apazines from the ditto-mimeo age. (Well,
I
was always a big fan.)
The assignment went nowhere but, on a dare, Kurt sent me a finished illustration anyway. Presumably, his setting was meant to be the mountainous region of Tora Bora; this year we can repurpose the background to suggest oddly-shaped sand dunes just outside of Baghdad. What the hey. It's Christmas.
Kurt has collected some of his old-timey cartoons in an online e-fanzine called
Taciturn
. His more recent, more overtly political humor can be found in the panels of the syndicated
Murphy's Manor
. (The strip follows the life of Murphy -- a librarian by day and up to his ankles in Being Gay after five.)