TIMES ARE TOUGH, HUH, BUB?
Look, the economy's in double-dip recession ... it's getting harder to make ends meet ... you gotta do what you gotta do to put food on the table, right? If that means
selling American babies
, you sell American babies. And if Meredith can't have her own babies, who can fault her if she's willing to pay top-dollar ...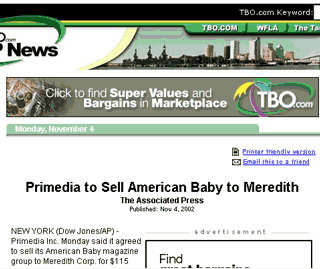 Sorry, what was that? American Baby
magzine
? Not American babies?
Ohhhh. That's very different!
Never mind.